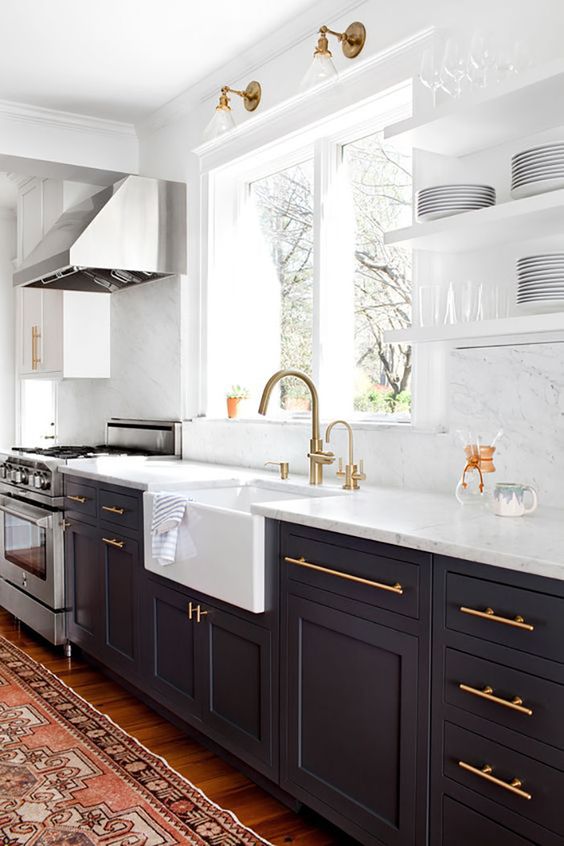 As many of you start to take down the Christmas decorations you may look at the now sparse decor of your home and wonder if it's time to freshen up the look and design in favour of something new and more updated. Some people opt for simple updates with things like new couch pillows, rugs and paint which is certainly a cost effective way to make a fresh start. Others are in need of a more costly renovation as leaving decor left unchanged for years has now put you well out of date. There are certainly some design trends that we will expect to see more of in 2020 so before you start planning and spending, take a quick read through our favourite picks that will not only be top trends but that will also be more appealing to home buyers should you decide to sell in the 12-24 months…
Kitchens: Colour is Making a Statement!
White kitchens have been a trend for several years now and it's getting a little tired, dare we say… even a little boring! Colour is making a comeback and here are a few ways designers are using it in kitchens in 2020:
Cabinets – We have definitely seen two colour cabinets for a few years now; white uppers and darker lowers or even just a statement island. But what is new are tri-colour cabinets. Adding a third colour is adding even more personality to this hardworking space – think uppers, lowers and island cabinets all in different but coordinated colours. Navy is a big trend cabinet colour with mass appeal, it has been named the 2020 colour of the year by Pantone!
Appliances – Remember in the 70s when Olive Green and Harvest Gold Appliances were the hot new thing? Well, they are back. Luxury appliance brand, Dacor, has come out with colour match appliances to add real flair to your kitchen. If this is too much coordination for you, there are more contemporary options such as the popular black stainless with rose gold hardware!
Additional Kitchen Trends!
Tile is Out! – Say farewell to grout lines and busy backsplash tiles as they are on their way out in favour of large slab stone surfaces. Countertop stone wrapped up the wall is giving us all the ooooo's and ahhhhh's especially when we see large marble veins running behind the sink and stove.
Oversized Islands – Time to get rid of the raised breakfast bar in favour of a more continuous surface. Large islands that provide a table top, additional storage space and a workspace are in demand and we expect this trend to continue in 2020.
Wood Surfaces – Natural wood or butcher block counters and even wood cabinets are making a resurgence. Not the Oak of the 80s but a more modern wood grain or luxurious walnut cabinet finishes are making a welcome appearance.
Mixed Metals – Gold and silver, polished, brushed and shiny finishes… gone are the days of sticking to one finish in a room, mix and match to your heart's content!
Oversized Lighting – Large kitchen island pendants make a statement – they can be a design starting point to which a kitchen can be designed around.