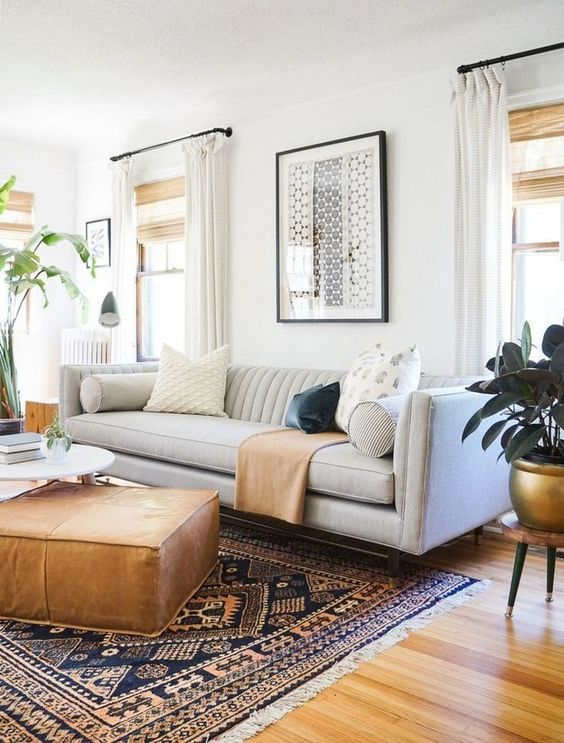 All this time at home has many of our clients and friends starting to take a closer look at their spaces and itching for change – the creative juices are flowing and the home renovations have begun. Through staging listings and decorating our own spaces we have mastered some important design measurements you may find useful when adding a final decorative touch. When hanging drapery or lighting, laying rugs or mounting art, spacial placement is key so that your decor may enhance the room rather than distract from it. These guidelines are critical to building scale, function and flow in your space. Let us know if there are areas in your home that you are struggling to highlight and we'd be happy to share some advice to ensure your design comes out flawless!
Art
We love hanging art over a sofa or a table in a living room to create a focal point but if it's too high it can be unnatural to look at it and too low can interfere with the enjoyment of the furniture. The rule here is that when hanging art over a sofa or piece of furniture, there should be between 5″ – 9″ of space between the top of the furniture and the bottom of the art or frame.
Drapery
Gone are the days of hanging your drapery panels just above the window frame… we've even seen some people attach the rod brackets to the window frame itself! You want your windows to appear larger than they are – this creates drama and lets drapery frame the window rather than cover it up. To make your windows appear taller, hang rods 4″ – 8 " above the window casing, and for wider looking windows take the rods between 4″ – 10″ beyond the side casing. This is one we love and gives a real designer look! Ikea is also famous for having longer drapery panels in stock so check them out for an inexpensive update!
Dining Chandelier
A dramatic light fixture over your dining table can really anchor the room but if it's too small it will seem lackluster, while hanging too low is a head injury waiting to happen. A dining chandelier should be at least 1/2 – 3/4 of the length of the dining table and should hang between 30″ – 34″ above the surface of the table if you have an 8′ ceiling. For each additional foot of ceiling height you should raise the chandelier 3″.
Dining Chairs
This is one many people struggle with! We have all experienced the awkward realization at a dinner party when you have sat in a chair that is too low for the table, leaving you feeling as if you're back at the kids table. Or when the chairs are too high and your legs become wedged, unmoving underneath the tabletop. Either way it makes for uncomfortable dining, don't allow this to happen when you host! There should be 12″ from the top of the dining table to the seat of the chair and for easy movement around the table there should be 32″ – 36″ of space between the back of the chair to the wall or piece of furniture.
Rugs
This can definitely be a Goldilocks story….some are too big, some are too small and you want one that is just right. If you are centering a rug in a room it should have 12″ – 18″ of bare floor between the edges of a rug and the walls of a room. You can even go to 8″ if you are working with a smaller room. If working with smaller rugs, it's always good to anchor them rather than have them floating – drop the front legs of a sofa or chair over the edge to make it more cohesive!
These are just a few of our most commonly used tips but check out our Pinterest page for all the the design measurement references you may need!~ Alex